Savings potential in the millions
The world-class performance strategy unites man and machine in harmony with resources. At this point it is possible to save 15% of operating costs.
Total Cost of Ownership
No performance is perfect: the Möllers Packaging Technology, in constant dialog with the customer, offers an ongoing optimization process for the continuous improvement of machine performance. The basis of this success is the holistic approach of "Total Cost of Ownership", with which plant operators can save tens of millions every year.
Premium Field Service
As a product with world-leading, unequaled high technical standards, "Premium Field Service" has been redefined. The Premium Field Service is supported by 5 five strong pillars with the core themes of system efficiency, targeted training, quality standards, planned maintenance and continuous improvement. The implementation of the tasks from these areas leads to considerable performance increases and thus to savings in the millions.
Targeted training in the Academy
In addition, the Möllers Packaging Technology endeavors to empower operating and maintenance personnel to independently recognize faults, to assess them correctly and to operate the systems professionally. For customers, business partners and their own competence teams, the Möllers Packaging Technology Academy offers a state-of-the-art seminar area for theoretical learning on a total area of ​around 1250 square meters. In the adjoining machine workshop, the practical implementation of what has been learned on the Full Line follows.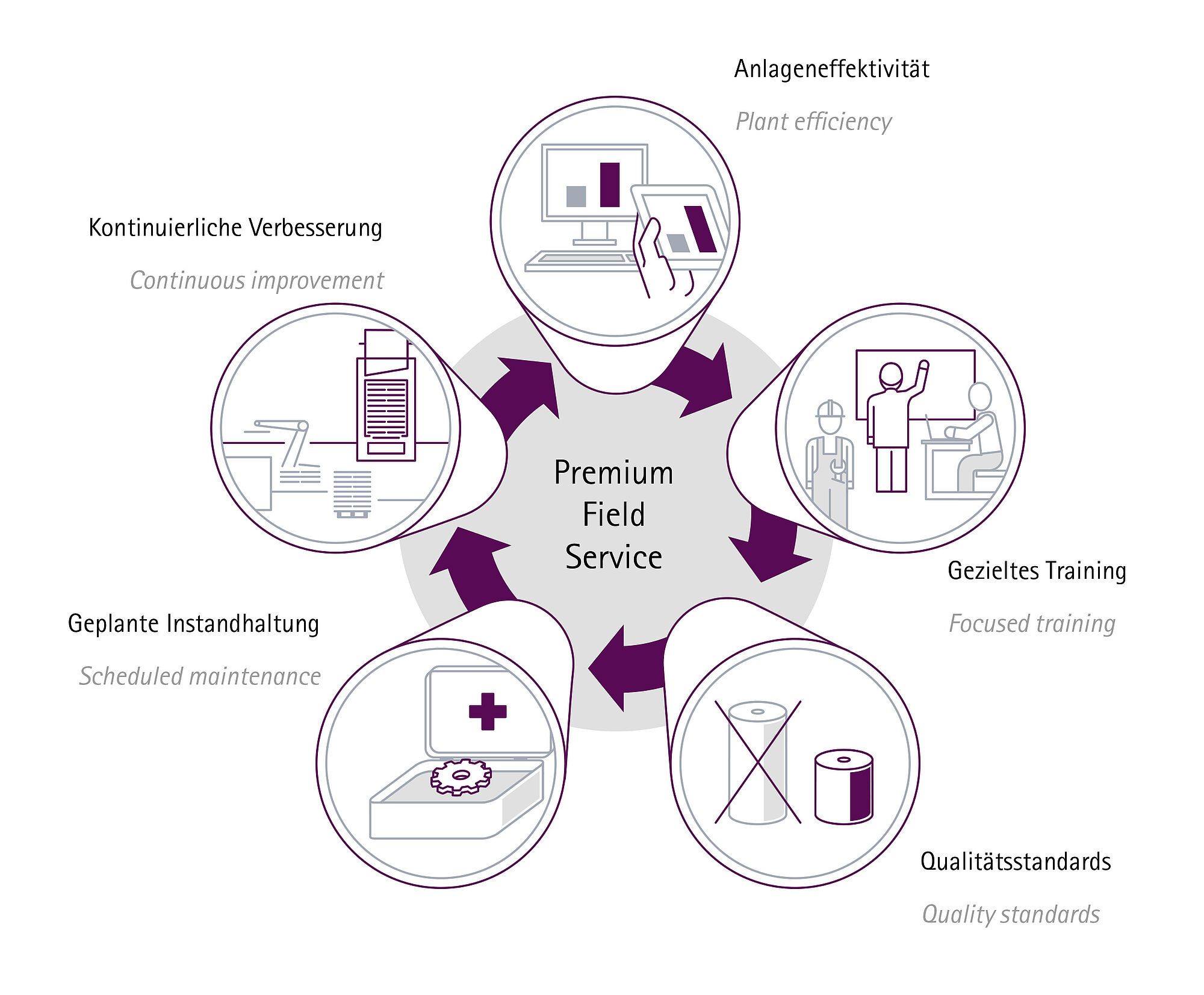 Anlageneffizienz

Das Prozess-Leitsystem PRODUCAT® erfasst Anlageneffizienz, wertet die Daten aus und vermeidet Verluste.
Selbsterklärende Touchscreen-Icons vereinfachen das Handling und verkürzen Schulungszeiten der Bediener.
Stillstände vermeiden: Aktive Fehlersuche, im Störfall wird das betroffene Bauteil auf dem Monitor angezeigt.
PRODUCAT kann bei bestehenden Anlagen nachgerüstet werden, Neuanlagen sind optional damit ausgestattet.
Gezieltes Training

In der Möllers Group Academy wird an der weltweit einzigen, palettenlosen Linie im Produktionsmaßstab geschult.
Bedienpersonal werden die Funktionszusammenhänge der eigenen Anlage erläutert:
Befähigen zum Erkennen von Anlageanomalien
Befähigen zur vorausschauenden Instandhaltung
Qualitätsstandards

Vor-Ort-Audits: Im Fokus stehen die Analyse von Kostentreibern in der Produktion und die Erfassung von Verbrauchsstoffen entlang der Full Line.
Ableiten konkreter Qualitätsstandards / Definition von Vorgaben für Hersteller und Zulieferer.
Forschung: In der Möllers Group Academy testen wir Ihre Produkte unter Realbedingungen – Sie erhalten eine perfekt auf Ihre Produkte abgestimmte Anlage.
Geplante Instandhaltung

Wartungsverträge mit Know-how-Transfer.
Unterweisung des Produktionspersonal zur Durchführung von Routinearbeiten
Optimieren von Zuverlässigkeit und Lebensdauer der Full Line.
Proaktives Ersatzteilmanagement / Kostenreduktion beim ressourcenschonenden Handling.
Regionale Service Hubs an weltweit wichtigen Standorten optimieren den After Sales Service.
Kontinuierliche Verbesserung

Laufender Optimierungs-Prozess zur kontinuierlichen Verbesserung der Maschinenleistung.
Schwachstellen-Definition / Modifizieren von Bestandsanlagen.
Möllers Group Academy: Testreihen zur optimalen Ladungssicherung.
Wir sind EUMOS-Mitglied – und sehen perfekte Ladungssicherung und damit mehr Sicherheit im weltweiten Güterverkehr als unseren Auftrag.